My Blog
Posts for tag: crowns
By Paula S. Fillak, DMD, Ltd.
August 12, 2021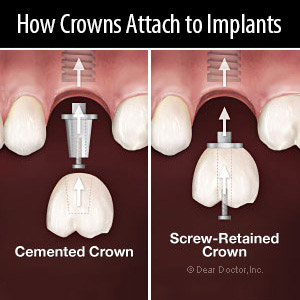 If you've decided on a dental implant to replace a missing tooth, you've made a great choice. Implants are a big favorite of both dentists and patients, not only for their life-likeness, but also their durability. Studies show that more than 95% of implants survive after ten years.
As you may know, single tooth implants are composed of two main parts: a metal post (usually titanium) imbedded in the jawbone; and a life-like crown affixed to the end of the post. But what you may not know is that there are two ways to attach the crown—either with screws or with dental cement.
Neither way is superior to the other—both have their own set of advantages and disadvantages. A cemented crown, for instance, usually looks more like a natural tooth than a screw-retained crown (more about that later) and dentists have more flexibility in making them look natural.
But cemented crowns require an additional piece of hardware called an abutment to better match it with the implant, something unnecessary with a screw-retained crown. Some people can also experience a reaction to the cement resulting in inflammation or even bone loss. And once installed, removing the crown later for repair or replacement is much more difficult than with a screw-retained crown.
Besides attaching directly to the implant, screw-retained crowns don't require cement and are more easily attached and removed. But the screw-hole can pose some aesthetic problems: Although it can be filled with a tooth-colored filling, the tooth's appearance isn't as ideal as a cemented crown.
So, which one is best for you? That will depend on the type and location of teeth being replaced, as well as your dentist's preferences. For instance, a more attractive cemented crown may be better for a visible front tooth, while a screw-retained crown might be a good choice for a back premolar or molar where appearance isn't as big a factor.
In the end, it's likely your dentist will discuss the pros and cons for each method as it pertains to your individual case. Whichever way your crown attaches, the end result will still be a life-like tooth that could last you for years to come.
If you would like more information on dental implants, please contact us or schedule an appointment for a consultation. You can also learn more about this topic by reading the Dear Doctor magazine article "How Crowns Attach to Implants."
By Paula S. Fillak, DMD, Ltd.
June 29, 2018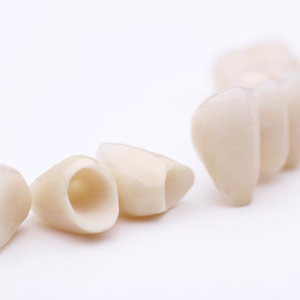 Crowns are a mainstay of cosmetic dentistry used to improve your smile's appearance in a variety of situations. Not all crowns are alike, though — and the differences could affect your cost.
Crowns or caps are needed to cover remaining tooth structure which was previously damaged. Tooth decay and trauma are the major reasons for damage or loss of tooth structure that make crowns necessary. After preparing the remaining healthy tooth to fit into the new crown, we then make an impression mold of the tooth for a dental technician to use to create the new crown. It's at this point where the road to your new smile can take different paths, both in construction and how much artistry goes in to your crown's formation.
Porcelain crown construction falls into two general categories. The first category involves life-like porcelain fused to an inner core of metal. Because many older types of porcelain tend to be brittle and subject to breaking under pressure, metals are used to strengthen the crown. A fused crown can thus provide both durability and a life-like appearance.
In recent years, though, new dental materials have made the second category — all porcelain crowns — a viable option. Either lithium disilicate or zirconium oxide account for nearly two-thirds of crowns made today. Although research on their durability is relatively new, initial results have been encouraging, showing advanced all-ceramic crowns can tolerate forces comparable to porcelain fused to metal (PFM) crowns used in bridges.
On the downside, these newer materials may be more expensive than PFM crowns. Costs for manufacturing may also increase depending on how life-like the matching of color with other teeth you desire your crown to be. For example, individual teeth aren't a uniform color — there are gradations of color that can vary from the tip of the tooth to the root. To capture these gradations in an individual crown requires a high level of artistry and time by the dental technician, which increases the final cost.
If you're in need of a crown, it's best to first make an appointment for a consultation to review your options, and to consider both your expectations and financial ability. Together we can determine what it will take to create a new look for your teeth that fits your expectations and your budget.
If you would like more information on dental crowns, please contact us or schedule an appointment for a consultation.
By Paula S. Fillak, DMD, Ltd.
February 04, 2017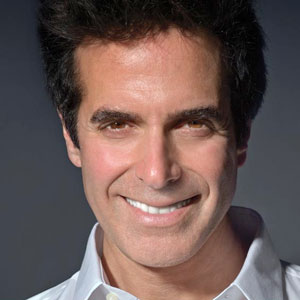 You might think David Copperfield leads a charmed life:Â  He can escape from ropes, chains, and prison cells, make a Learjet or a railroad car disappear, and even appear to fly above the stage. But the illustrious illusionist will be the first to admit that making all that magic takes a lot of hard work. And he recently told Dear Doctor magazine that his brilliant smile has benefitted from plenty of behind-the-scenes dental work as well.
"When I was a kid, I had every kind of [treatment]. I had braces, I had headgear, I had rubber bands, and a retainer afterward," Copperfield said. And then, just when his orthodontic treatment was finally complete, disaster struck. "I was at a mall, running down this concrete alleyway, and there was a little ledge… and I went BOOM!"
Copperfield's two front teeth were badly injured by the impact. "My front teeth became nice little points," he said. Yet, although they had lost a great deal of their structure, his dentist was able to restore those damaged teeth in a very natural-looking way. What kind of "magic" did the dentist use?
In Copperfield's case, the teeth were repaired using crown restorations. Crowns (also called caps) are suitable when a tooth has lost part of its visible structure, but still has healthy roots beneath the gum line. To perform a crown restoration, the first step is to make a precise model of your teeth, often called an impression. This allows a replacement for the visible part of the tooth to be fabricated, and ensures it will fit precisely into your smile. In its exact shape and shade, a well-made crown matches your natural teeth so well that it's virtually impossible to tell them apart. Subsequently, the crown restoration is permanently attached to the damaged tooth.
There's a blend of technology and art in making high quality crowns — just as there is in some stage-crafted illusions. But the difference is that the replacement tooth is not just an illusion: It looks, functions and "feels" like your natural teeth… and with proper care it can last for many years to come.  Besides crowns, there are several other types of tooth restorations that are suitable in different situations. We can recommend the right kind of "magic" for you.
If you would like more information about crowns, please contact us or schedule an appointment for a consultation. You can also learn more about this topic by reading the Dear Doctor magazine articles "Crowns & Bridgework" and "Porcelain Crowns & Veneers."